Perforated strips
At Tame Industrial we make all kinds of perforated strips in stainless steel and tempered steel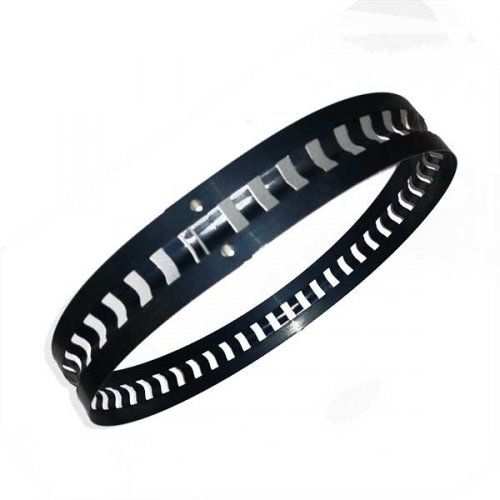 At Tame Industrial we are specialized in the manufacture of all types of components for filters, which includes the realization of perforated strips that allow the fastening and the correct functioning of the filter sleeves, at the same time this product will save you a lot of time in the manufacture of the your filter sleeves, since you do not need to waste time sewing strips in the filter sleeves. You only need to introduce the perforated strips inside the filter sleeves so you can save time and money. Like the rest of the pieces that we develop, these mechanisms are manufactured to suit the needs of our customers. Just contact us and tell us what you need, we will study your case and develop the perforated strips better adapted to your needs.
A wide range of products for filter, cages and sleeves
The perforated strips that we develop are part of a long list of filter components and accessories that we manufacture. Another series of products also come from our workshop, also really important for us, such as plates for filtration systems, fixings, venturis, filter structures and various fixing systems (such as snap-rings and snap-bands). Ask us what you need, we are sure that at Tame Industrial we can help you in everything related to the parts and components for your systems.
What types of perforated strips do we manufacture?
At Tame Industrial we manufacture perforated strips that achieve the needs and demands of our customers. We are aware that there are not two companies that are the same, just as there are no two pieces that are exactly the same. This is where, precisely, one of the main strengths of our company, we have the possibility to personalize the measurements of the strips. We can manufacture perforated strips in both stainless steel and tempered steel, depending on the needs of your product.
About perforated strips made of stainless steel, they have measures of 30 mm x 0.4 mm. On the other hand, perforated strips made with tempered steel base, are developed with measures of 35 mm x 0.4 mm and any diameter. Call us and we will give you more information about it.
Remember that the customized manufacturing service of perforated strips that we offer at Tame Industrial is national and international, which means that we have no problem to send the parts to any corner of the world. Trust a professional and punctual service.